Officer-In-Charge:
Ms. Melania M. Casanova
Address:
1st Floor, Left Wing, Main Bldg., Muntinlupa City Hall, National Road, Putatan, Muntinlupa City
Contact Information
8 862-2525 local 132; 8 862-2664 local 191; 8 862-3822; 8 861-5803; 8 810-3617; 8 869-1108
---
Mandate
RA 7160 (Sec. 474) / RA 7926 (Sec. 30)
Prepare and submit financial statements in the Office of the Honorable Local Chief Executive, and to the Commission on Audit (CGM and Barangay);
Certify to the availability of budgetary allotment to which expenditures and obligations may be properly charged
Review supporting documents before preparation of vouchers to determine completeness of requirements
Prepare statement of cash advances, liquidation, salaries and allowances, reimbursement and remittances pertaining to the local government unit
Prepare statements of journal vouchers and liquidation of the same and other adjustments related thereto
Account for all issued requests for obligations and maintain and keep all records and reports related thereto
Prepare journals and the analysis of obligations and maintain and keep all records and reports related thereto
Exercise such other powers and perform such other duties and functions as maybe provided by law or ordinance
DILG MC No. 2011-134
Other Duties
Community Outreach (Adopted Community: Esporlas Itaas)
DECS "Brigada Eskwela" (Adopted Schools: Lakeview Integrated School, Tunasan)
Vision
A leading support department of the City Government of Muntinlupa towards transparency and accountability in local governance through total quality management and excellence in the performance of public service.
Mission
To ensure accurate recording of accounting transactions and timely submission of financial statements and other required reports for Management's use in decision-making and for compliance to statutory requirements.
Strategic Goal
Process all valid claims with complete supporting documents within specified cycle time. Prepare, finalize and submit the financial statements and related reports on or
before the due date.
Organizational Chart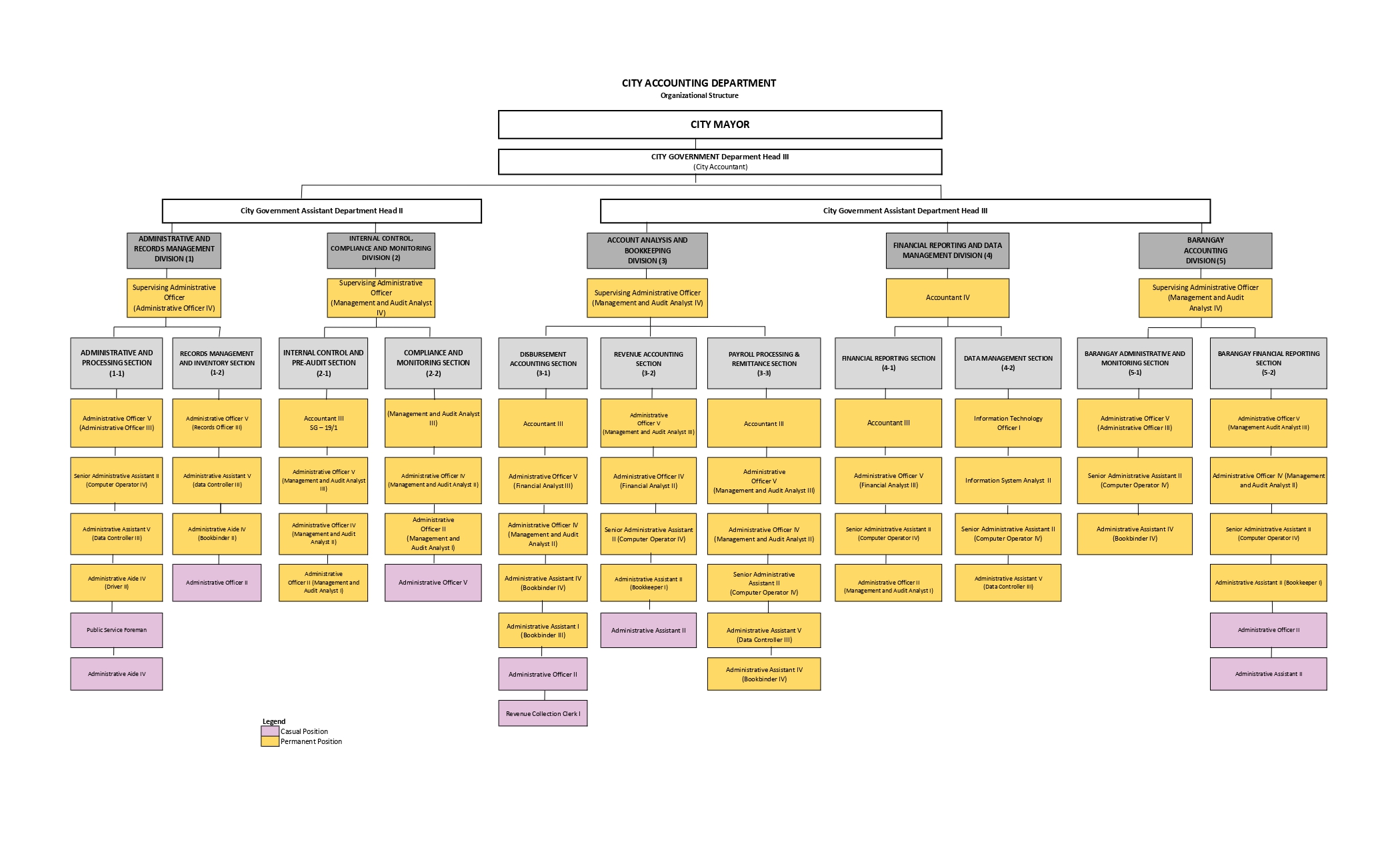 ---
List of Services
---