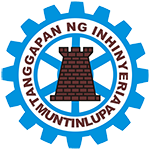 City Engineer:
Engr. Dynadelle N. Aranda
Address:
2nd Floor Right Wing, Main Bldg., Muntinlupa City Hall, National Road, Putatan, Muntinlupa City
Contact Information:
Telephone No.: 8 861-1129 /8 831-4979 / 8 862-2525 local 174 / 8 511-0162 local 211 / 8 862-3804 / 8 862-1841
E-mail: [email protected]
Facebook Page: Muntinlupa City Engineering Department
---
Background
City Engineering Department is part of the City Government of Muntinlupa so as to provide assistance to the City Mayor in planning, organizing, directing and controlling all matters pertinent to the technical activities of the city government to ensure proper operation, maintenance, repair and improvement of the city.  Along with administering the technical/engineering development of the city and to implement major policies and regulations issued by the City Mayor and formulate operating policies and guidelines in connection thereto.
As well as conducting ocular, on-the-spot inspection and investigation of work and/or program being undertaken within the city by the office and other private contractors then supervises, directs and coordinates the administrative and financial activities of the program.
Vision
We envision the City Engineering Department to be in the forefront of citywide development through modern and sustainable infrastructure by providing effective, efficient and fast quality services with united and dynamic people.
Mission
To provide prompt and honest engineering services;
To serve as a primary agent of modernized, technology-oriented and environment-friendly infrastructure development;
To be recognized as one of the leading departments using an updated and advanced technologies in maintenance and construction
To be a strong pillar in designing and building of climate change adaptive and disaster-resilient infrastructure
Strategic Goals
To balance and have an attractive infrastructure development that boost growth potentials in areas lacking capital investment.
To have safe environment that will serve as a support system for people to work and live in
Services Offered
Planning, building and construction of infrastructure projects of the city
Land surveying
Repair and maintenance of all government-owned buildings and structures:
Sanitary facilities
Electrical facilities
Communication system
Air-conditioning system
Declogging and cleaning of all drainages, sewer lines and canals throughout the city
Repair and maintenance of all roads, streets and bridges of the city
Fabrication of outposts, furniture and fixtures of all public buildings and offices
Releasing of Excavation Permit
Service Process
---