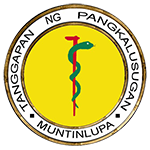 Officer-In-Charge:
Dr. Juancho H. Bunyi, MD., MPH
Address:
Centennial Avenue, Laguerta, Tunasan, Muntinlupa City
Contact Information:
(02) 8 8541-3485
---
Mandate
The City Health Office (CHO) was created under the Republic act No. 7160 also known as the Local Government Code where in public health service was one of the national functions devolved to local government units. It is the one in charge in the delivery of health services to the community and oversees the implementation of different health programs of the Department of Health (DOH). The CHO in its own building is located at Centennial Avenue, Tunasan, Muntinlupa City. It has 15 health centers (HC) and one health station distributed in the 9 barangays of the city and is instituted depending on the population of the barangay.
The CHO generally manage the personnel and staff of the said office; it also coordinates with other government agencies and non-government agencies to ensure delivery of basic health care and promotion of health to the community. It also recommends to the Sangguniang Panglungsod through the Local Health Board an ordinance that will aid in the preservation and improvement of the public health.
The HC served as the community- based and patient directed in providing basic public health services. It implements DOH programs through provision of quality health services. The following are the lists of DOH programs that are being implemented:
National Tuberculosis Program
National Immunization Program
Maternal, Neonatal, Child Health and Nutrition Program
Rabies Program
Dental Program
Maternal and Child Health Program
Family Planning and Reproductive Health
Nutrition
Non-Communicable Disease Program
All these programs can be availed in all health centers located in different barangays.
Vision
The City Health Department of Muntinlupa as the prime mover and excellent provider of quality health service in a dynamic and resilient environment.
Mission
To consistently promote, protect and provide innovative and quality health services thru:
Competent, effective and efficient health provider towards client satisfaction
Preventive interventions for a healthy environment
Reduction of risk and vulnerability of the community
Sustained social health insurance
An established, comprehensive and technologically updated data information system
Service Pledge
We commit to:
To provide quality care with compassion, valuing cultural and religious differences with respect to the well-being and dignity of each person.
Dedicated health care providers fulfilling their duties and responsibilities as public servants.
Ensure all health care providers are skilled, knowledgeable and reliable, using minimum resources at minimal cost but with reasonable speed.
To provide quality care services to our clients irrespective of socio-economic status.
Ensure patients that the health services delivered by the health providers are of good quality, appropriate and timely with effective results.
Ensure patients on the confidentiality of their health conditions and that they will be treated discreetly and within ethical standards.
Service Process
---