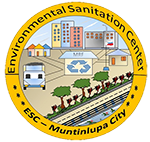 Department Head:
Ms. Lorna B. Misa
Address:
Arandia St., Tunasan, Muntinlupa City
Contact Information:
Telephone Nos.: 8 861-1866 / 8 862-0352
---
Vision
We envision Muntinlupa City as a well-planned, clean and green, premier city, with its peace-loving, hardworking and dedicated people, enjoying a clean, orderly and healthful way of living.
Mission
Towards this vision, we shall be working for the involvement of barangays, business sectors, students, non-government organizations, government organizations and other community organizations for the adoption, management and implementation of an ecological solid waste management system, to safely and effectively handle solid waste with least harmful impacts on human health and the environment. Likewise, strict enforcement of environmental laws will be effected in coordination with other environmental agencies to attain this mission.
Service Pledge
We commit to:
Enforce the City Ordinances 06-092 and 10-109 for a cleaner city and community.
Advocate for the adoption of best environmental practices to protect our environment and its citizens.
Capacitate all citizens of Muntinlupa to achieve successful solid waste management programs through community participation.
Service Process
---