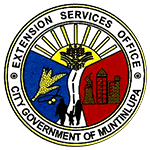 Acting Head:
Ms. Marilou O. Lobo
Address:
5th Floor, Annex Building, Muntinlupa City Hall
Contact Information:
Telephone No.: 8 804-5093
E-mail: [email protected]
Facebook Page: DA Extension Services Office City Government of Muntinlupa
---
Mandate
By virtue of the Republic Act 7160, otherwise known as the Local Government Code of 1991, this office has been devolved from the national control down to the local government units.
DA-Extension Services Office is part of the Economic Cluster offices extending services that would lead towards economic development, responsible for the planning and implementation of programs and projects in the doorsteps of the community. It involves Establishment and maintenance of Model Urban Vegetable Garden to showcase the production of various approach in food production. Extension services such as Technical Assistance, seed and seedlings distribution, AgriTalk and Agricultural Training Program for home, school community, subdivisions and barangay, including families of malnourished children with vegetable garden project. It is also mandated to implement agri-business program which add value to the agricultural products.
In addition, this office works hand in hand with the other local government offices, NGO'S, religious sector, and even private organizations in Muntinlupa City by way of different transfer of technology activities.
Vision
A City of innovative Agriculture and Agribusiness program with improved food security anchored to sustainable and self-sufficient Food production.
Mission
To establish and develop urban gardens in Muntinlupa City by empowering communities as a support to the city's food security measures;
To develop agriculture-related skills and knowledge of clientele by delivering urban agricultural training;
To stimulate inclusive economic growth in the local agri-sector by extending profitable livelihood program through city-appropriate agriculture technologies.
To support the city's nutrition and poverty alleviation programs.
Service Pledge
Commitment - Working together to achieve service excellence
Transparency – working together in providing our clients complete and accurate information
Teamwork – Working together to achieve one goal
Integrity and accountability – Working together with strong moral principles and responsible for one's actions.
Best Customer Service – Working together serving our customers efficiently and effectively.
Service Process
---