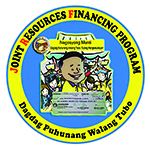 Acting Head:
Ms. Maylene V. Viñas
Address:
2nd Floor, Plaza Central, Poblacion, Muntinlupa City
Contact Information:
Telephone No.: 8 772-3457
E-mail: [email protected]
Facebook Page: Joint Resources Financing Program - JRF
---
Mandate
Ordinance No. 15-136, an ordinance establishing the Joint Resources Financing Program to be funded from the general fund of the City of Muntinlupa under the special projects and programs of the office of the City Mayor.
Vision
Our vision is to build self-sustainable and self-sufficient micro-businesses in the City of Muntinlupa.
Mission
To help aspiring skilled individuals to start a business, low income entrepreneurs and small business enterprises to grow in their business ventures by providing sustainable financial assistance at zero interest and by extending entrepreneurial trainings and education.
Service Pledge
Commitment - Working together to achieve service excellence
Transparency - Working together in providing our clients complete and accurate information
Teamwork - Working together to achieve one goal
Integrity and Accountability - Working together with strong moral principles and responsible for one's actions.
Best Customer Service - Working together serving our customers efficiently and effectively.
---
Components of the Program
Micro Finance
A loan granted at zero interest to an individual with low income business in grouping system for purposes of start-up, additional capital, financing to purchase business related inputs to higher capitalization.
SIKAP Loan – a start-up capital for aspiring skilled entrepreneurs (from Department of Agriculture (DA), Muntinlupa City Technology Institute (MCTI), Gender and Development Office (GAD) and Public Employment and Service Office (PESO) clients)
ASENSO Loan – additional capital for the low income entrepreneurs
MAUNLAD Loan – additional capital for small business enterprise with higher capital amounting up to P300,000.
A. Collection of Payment
Please see below Loan Amortization table.
Schedule of loan collection is Friday and Monday.
Weekly Collection Report
B. Capability Building Program
a. Moral and Personal Development
b. Entrepreneurial Management Training
c. Organizational Welfare and Development
- Mid-Year and Year-End
d. Dalaw Negosyo
e. Community Development Program
- Delivering community service through Kalingang Munti (in coordination with CADO)
a. One-time Compulsory Savings
5% of the loan amount of P 5,000 and up will be deposited with the designated bank of the Program.
b. Weekly Compulsory Savings
From the minimum loan amount of P5,000 to P150,000, designated amount was collected weekly (Please see savings scheme).
Product / Program Promotion
a. Hot Ah! Muntinlupa
b. Entrepreneurial Convention
c. Likhang Munti
d. Trade Fair, Bazaar, and Exhibits
e. Signaging
Service Process
---