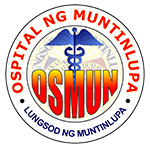 Hospital Director:
Atty. Edwin L. Dimatatac, MD, FPCP, MHA, LLB
Address:
Filinvest Corporate City, Civic Drive, Alabang, Muntinlupa City
Contact Information:
Telephone No.: 8 771-0457 local 113 (HRDD); 228 (PLMun-OsMun)
Facebook Page: OSPITAL NG MUNTINLUPA - OFFICIAL
---
Mandate
The Ospital ng Muntinlupa was established primarily to provide medical / surgical services. Its legal mandate: 1987 Philippine Constitution(b) Article XIII, Section 11 "The State shall adopt an integrated and comprehensive approach to health development which shall endeavor to make essential goods, health and other social services available to all the people at affordable cost. There shall be priority for the needs of the under-privileged, sick, elderly, disabled, women, and children. The State shall endeavor to provide free medical care to paupers."
Vision
The Ospital ng Muntinlupa, ISO 9001 2015 certified, is one of the best LGU Hospital with excellent implementation Quality Management Systems and other innovative programs that facilitate the conduct of optimum patient care at the lowest possible cost. The best local government hospital providing quality health services at the lowest possible cost.
Mission
To provide sustainable healthcare services with integrity and efficiency for every resident of Muntinlupa and it's surrounding communities.
To work together with other sectors of the community in the prevention of diseases and the promotion of optimum healthcare services.
To deliver quality health service through it's competent, compassionate health professionals and technologically advanced medical facilities.
Quality Policy Objective
The Ospital ng Muntinlupa is committed to continually improve quality healthcare services. To fulfill the vision/mission of Ospital ng Muntinlupa, we shall provide the most appropriate, comprehensive, effective healthcare services to exceed our clients' expectations. Our success will be achieve through full participation of our employees at all levels of the organization guided by our Quality Objectives.
Service Process
---