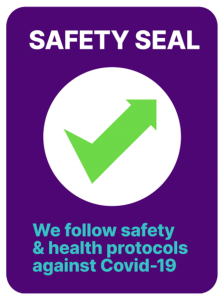 The Safety Seal Certification is a certification scheme that affirms that an establishment is compliant with the minimum public health standards set by the government and uses or integrates its contact tracing with StaySafe.ph.
The City Government of Muntinlupa issues the Safety Seal for mall, wet market, other retail store, restaurant outside hotels/resorts, fast food, eateries, coffee shop, bank, money changer, remittance center, car wash, laundry service center, art gallery, library, museum, zoo, sports center, tutorial, testing and review center, gym, spa, cinema, arcade, all other private establishments.

Step 1. Application
Accomplish the Safety Seal Application Form then send a scanned copy (pdf version) to [email protected]
Step 2. Inspection
The Inspection and Certification Committee (ICC) may schedule assessment on-site as warranted. The applicant shall be advised of the date and time of inspection
Step 3. Certification
The Safety Seal shall be granted to a business/establishment with a favorable assessment. The digital Seal shall be sent thru email, and shall be posted conspicuously at entrances.