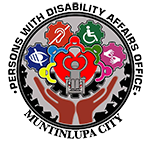 Acting Head:
Dr. Caryl G. De Guzman
Address:
Ground Floor, Ayala Malls South Park, Alabang, Muntinlupa City
Contact Information:
Cellphone No.: 0956 445 0384
E-mail: [email protected]
Facebook Page: Muntinlupa City Persons with Disability Affairs Office
---
Mandate
The Persons with Disability Affairs Office is one of the requisite offices our laws are implementing in the entire archipelago. The observance and protection of Disability Rights is of utmost importance as seen from various policies and guidelines from both National and Local Governments.
It is a declared policy of Republic Act 7277 that persons with disabilities (PWDs) are part of the Philippine Society, and thus the State shall give full support to the improvement of their total well-being and their integration into the mainstream of society. They have the same rights as other people to take their proper place in society. Further, Republic Act 10070 was approved on April 6, 2010 to ensure that policies, programs and services for persons with disabilities are implemented at the local level for them to fully participate in building an inclusive society for all through the establishment of Persons with Disability Affairs Office (PDAO) or the appointment of focal person/s in case of the fourth, fifth and sixth class municipalities, in lieu of the creation of PDAO. Furthermore, as far as National Policies are concerned, the Department of the Interior and Local Government (DILG) issued Memorandum Circular 2017-119 dated September 13, 2017, providing the guidelines for the establishment of PDAO.
Vision
We envision an inclusive, empowered, self-reliant, productive and disaster resilient community for Persons with Disability
Mission
To ensure prompt implementation and timely development of programs for the welfare of persons with disability thru active community empowerment and purposeful partnerships from possibly all levels of the government and non-government entities.
Profile
Muntinlupa has its own policies derived from National Laws. Ordinance No. 18-167 has cemented the establishment of PDAO creation and implementation in Muntinlupa City.
PDAO is built to design and implement work programs in accordance to national and local laws and the UN Convention on the Rights of PWDs (UNCRPD). It shall also advocate for equal opportunity and accessibility of PWDs on programs for education, employment, health, access to government and non-government facilities, socio-cultural and sports development.  PDAO is the designated safe keep of Disability Data in Muntinlupa. This office is also at the forefront of community organizing, PWD Organizations and Federation. One of the core daily functions of PDAO is to identify and issue PWD ID Cards to people who are qualified for it.
Disability Accessibility is an important pillar of PDAO's advocacy and serves as the consultative and advisory body in the issuance of building and occupancy permits relative to the effective implementation of Batas Pambansa 344 also known as the Accessibility Law. The Persons with Disability Affairs Office is the watch dog of the people in monitoring for incidents that violates RA 7277, BP 344, RA 10070, RA 10754 and other PWD related laws.
Services Offered
A. Issuance of the following:
PWD ID Card
Certificate of Disability
PWD Booklets
Certificate of Cancellation
B. Access Audit to Public Private Infrastructures
C. Technical Assistance on Disability Inclusion
D. Spearhead in Community Organizing for Persons with Disability
E. Assistance to Councils and Committees
---
Service Process
---
Feedback and Mechanisms
Filing of complaints through the Suggestion Box or directly address to the Persons with Disability Affairs Office.
The complainant is asked to fill up a form narrating the details of the complaints / grievances.  Parties involved are both heard and are given time to explain to resolve the conflict or agree for an immediate solution.
2. Survey or Feedback
The persons with disabilities, parents and other stakeholders are asked to comment and evaluate the implementation of PDAO programs thru suggestion boxes or direct contact with PDAO Staff.
3. Complaints are addressed to:
MR. BERNARDO ROMAN - Section Chief, MCPDAO - Community Affairs and Policy Development (0933 307 8368)